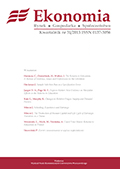 ISSN: 0137-3056
Punkty MNiSW:
13
Redaktor naczelny:
prof. dr hab. Tomasz Żylicz
tzylicz@wne.uw.edu.pl
Sekretarz redakcji:
Marta Höffner
ekonomia@wne.uw.edu.pl
(48) 22 55 49 184
Wydawca: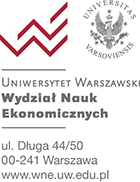 Wpływ zagranicznych inwestycji bezpośrednich na zdolność konkurencyjną gospodarki Węgier w procesie integracji z rynkiem Unii Europejskiej
B. Kostro
ABSTRAKT: In the paper, the results of the research into the competitiveness of Hungary'seconomy in 1995-2002 were presented. The competitiveness of the economywas determined on the level of the manufacturing sector with special regard tothe impact of foreign direct investment on the automotive industry and theelectrical and optical appliance industry. The above industries that in the 1990s had enjoyed priority governmental support in the form of investment incentives, showed the strongest penetration by the foreign capital. The foreigndirect investment (FDI) companies established in these industries made thequickest adaptive structural transformations in the sphere of production andmarketing, increased the export volume and decidedly improved the quality oftheir product offer, thus integrating Hungary into the European productionand sales chain. This has been not without influence on the profitability of theFDI companies in the above industries. Thus, the adaptability of the Hungarian economy and its sales and profit making capability in the industries underreview have proved, thanks to the foreign direct investment companies, high.However, at the same time the economy's capability of attracting foreign investment has been considerably weakening, as the volume of foreign investment in the manufacturing sector has been approaching the limit of this sector's absorption capability.
Numer wydania: 14
W numerze: