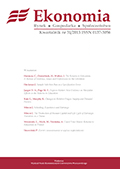 ISSN: 0137-3056
Punkty MNiSW:
13
Redaktor naczelny:
prof. dr hab. Tomasz Żylicz
tzylicz@wne.uw.edu.pl
Sekretarz redakcji:
Marta Höffner
ekonomia@wne.uw.edu.pl
(48) 22 55 49 184
Wydawca: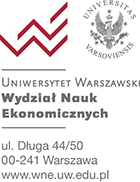 Myśl ekonomiczna późnych scholastyków hiszpańskich
K. Kostro
ABSTRAKT: The paper analyzes the economic thought of the late Spanish scholastics andshows that they have made a meaningful contribution to the development ofeconomics. The objective of the paper is to prove that these authors deservethe name of originators of the scientific economic knowledge. The literary output of the 16th century?s Spanish thinkers includes, apart from theological andjuridical texts, also reflections on economic problems that, by their substanceand nature, have been ahead of many economic conceptions. The reflectionsdeveloped by the Spanish scholastics make the germ of progressive thoughtsand ideas to-day considered as free-market and liberal. Their reflections alsopresent sometimes very radical appraisal of certain phenomena and suggesta just, from the point of view of moral philosophy, solution to the difficultiesthat appear in the economic life.
The paper starts with considerations that describe this group and bring nearertheir times. The main part of the paper is a presentation of the most importanteconomic ideas of the representatives of the Spanish scholastic economics.Then, the perception and appraisal of their output in the economic literatureare presented. The paper ends with discussion on the links between the scholastic economics and the Austrian school of economics.
Numer wydania: 14
W numerze: