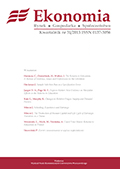 ISSN: 0137-3056
MoSaHE points:
13
Editor in chief:
prof. dr hab. Tomasz Żylicz
tzylicz@wne.uw.edu.pl
Editorial assistant:
Marta Höffner
ekonomia@wne.uw.edu.pl
(48) 22 55 49 184
Publisher: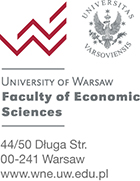 Information on the change of the title
On behalf of the Scientific Committee, Editor-in-Chief, prof. Tomasz Żylicz and other members of the Editorial Board we would like to inform that Ekonomia journal is changing ist title. Starting with the first issue of 2017 our quaterly will be published under the title Central European Economic Journal and as an entirely English language journal. Editorial Board and the owner of the magazine, Faculty of Economic Sciences, University of Warsaw, would also like to inform about the beginning of the collaboration with De Gruyter Open. Subsequent issues of Central European Economic Journal will be available in Open Access on De Gruyter Open platform.
Latest issue: 47
In this issue:
Access to information about publications in "Ekonomia"
List of databases in which the journal is indexed:
Ekonomia is indexed in the following databases:

In 2016 publishing
Ekonomia
journal in English is financed by Ministry of Science and Higher Education, Republic of Poland, under the agreement no. 719/P-DUN/2016.