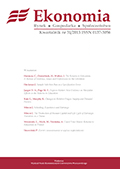 ISSN: 0137-3056
MoSaHE points:
13
Editor in chief:
prof. dr hab. Tomasz Żylicz
tzylicz@wne.uw.edu.pl
Editorial assistant:
Marta Höffner
ekonomia@wne.uw.edu.pl
(48) 22 55 49 184
Publisher: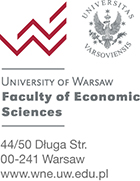 Do Entrants Take It All? The Evolution of Task Content of Jobs in Poland
W. Hardy, R. Keister, P. Lewandowski
ABSTRACT: In this paper we analyse the changes in task content of jobs in Poland between 1996 and 2014. We follow the approach of Autor, Levy and Murnane (2003) and Acemoglu and Autor (2011) and use the O*NET 2003 and 2014 data combined with the Polish LFS data at a 4-digit occupation classification. We find an increasing intensity of both non-routine and routine cognitive tasks, and a decreasing intensity of both routine and non-routine manual tasks, mainly due to shifts in the employment structure between occupations. Cohorts born after 1970 underwent large shifts in the task intensity structure and contributed most to the overall changes in task contents, while almost no adjustments occurred in cohorts born before 1970. The growth of non-routine cognitive tasks among workers born after the 1970 was largely driven by the tertiary education boom in Poland, although in some cohorts the rising supply of tertiary graduates was accompanied by a relative reduction of the non-routine content of jobs.
Issue number: 47
In this issue: