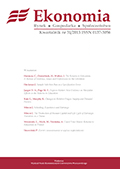 ISSN: 0137-3056
MoSaHE points:
13
Editor in chief:
prof. dr hab. Tomasz Żylicz
tzylicz@wne.uw.edu.pl
Editorial assistant:
Marta Höffner
ekonomia@wne.uw.edu.pl
(48) 22 55 49 184
Publisher: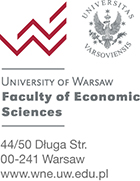 Scientific Committee
Wojciech Charemza (University of Leicester)
Anna Ferragina (University of Salerno)
Stanisław Gomułka (Polska Akademia Nauk)
Gene M. Grossman (Princeton University)
Elhanan Helpman (Harvard University)
Jerzy Konieczny (Wilfrid Lauriel University)
Witold Koziński (University of Rzeszów)
Witold Morawski (Akademia Leona Koźmińskiego)
Andrzej Olechowski (Akademia Finansów i Biznesu Vistula)
Krzysztof Opolski (Uniwersytet Warszawski)
Bogusław Pietrzak (Szkoła Główna Handlowa)
Włodzimierz Siwiński, przewodniczący Rady Naukowej (Uniwersytet Warszawski)
Alasdair Smith (Sussex University)
Oded Stark (Uniwersytet Warszawski)
Tomasz Strzałecki (Harvard University)
Subidey Togan (Bilkent University)
Jerzy Wilkin (Uniwersytet Warszawski)
Editorial Board
Tomasz Żylicz, Editor in chief
Juliusz Jabłecki(Finance)
Łukasz Hardt (History and methodology of economics)
Michał Krawczyk (Microeconomics)
Agata Kocia, editor in charge of English language
Stanisław Kubielas (Macroeconomics)
Natalia Nehrebecka (Quantitative methods)
Journal editing is carried out in five sections::
Microeconomics
Macroeconomics
Finance
Quantitative methods
History and methodology of economics
The sections are managed, respectively, by their editors who look through the refereeing and publishing process.
Ms. Marta Höffner runs the journal's secretariat.