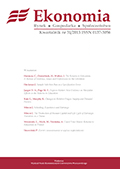 ISSN: 0137-3056
Punkty MNiSW:
13
Redaktor naczelny:
prof. dr hab. Tomasz Żylicz
tzylicz@wne.uw.edu.pl
Sekretarz redakcji:
Marta Höffner
ekonomia@wne.uw.edu.pl
(48) 22 55 49 184
Wydawca: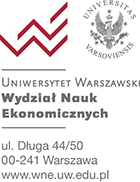 Benchmarking jako nowoczesna metoda zarządzania zmianami w organizacji
B. Mucha
ABSTRAKT: In this article a justification was made of the need to carry out changes in the functioning of the enterprise and the conscious management of them. For this purpose it is proposed to use the method of benchmarking, indicating its attributes and conditions. The article contains a synthesis of world views on the subject of benchmarking, its essence, kinds and procedures, and also the results of pilot research carried out in the firm Profit verifying the conditions of using the method of benchmarking.
Numer wydania: 10
W numerze: