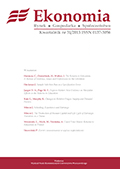 ISSN: 0137-3056
Punkty MNiSW:
13
Redaktor naczelny:
prof. dr hab. Tomasz Żylicz
tzylicz@wne.uw.edu.pl
Sekretarz redakcji:
Marta Höffner
ekonomia@wne.uw.edu.pl
(48) 22 55 49 184
Wydawca: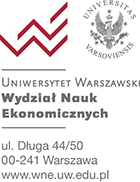 Transformacja repartycyjnego systemu emerytalnego w systemmieszany
M. Ogonek
ABSTRAKT: This study concerns the Polish pension system reform. This reform is a long-run economic process, which could result in significant changes in many sectors of the economy. The aimof this work is an analysis of the impact of pension system reform on economic growth when the process of demographic transformation is intensified.
This study introduces an analytical general equilibrium model, which illustrates capital flows of pension system in the transformation process. It contains results of simulation research.
Conclusion: The reform of 1999 prevents the public finance crisis, improves the economic security of an individual, causes favourable changes in capital market, controls the labour market and is conducive to economic development. It is necessary to consider the possibility of raising the retirement age and of an increase in the degree of privatization.
Numer wydania: 10
W numerze: