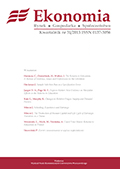 ISSN: 0137-3056
Punkty MNiSW:
13
Redaktor naczelny:
prof. dr hab. Tomasz Żylicz
tzylicz@wne.uw.edu.pl
Sekretarz redakcji:
Marta Höffner
ekonomia@wne.uw.edu.pl
(48) 22 55 49 184
Wydawca: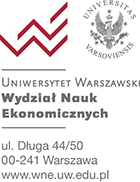 Sytuacja rynkowa i konkurencyjność spółdzielni w Polsce na przełomie XX i XXI stulecia
P. Grzegorzewski
ABSTRAKT: This article includes the prezentation of the results of empirical research, which was conducted among managers of consumers. co-operatives (Społem PSS), co-operative creameries and Samopomoc Chłopska co-operatives and concerned economic situation of those entities. From many important, current problems the co-operatives which are specific organizational-proprietary form of conducting economic activity, have to deal with, the research concentrated only on empirical material which could be obtained through a survey which included opinions about:
the market situation of co-operatives and the level of their competitiveness,
productive capacity of co-operatives and their production profile.
Numer wydania: 10
W numerze: