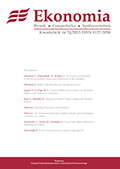 ISSN: 0137-3056
Punkty MNiSW:
13
Redaktor naczelny:
prof. dr hab. Tomasz Żylicz
tzylicz@wne.uw.edu.pl
Sekretarz redakcji:
Marta Höffner
ekonomia@wne.uw.edu.pl
(48) 22 55 49 184
Wydawca: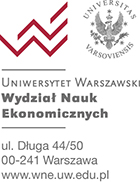 Przesłanki i czynniki kształtowania reputacji firmy
A. Kwiecień
ABSTRAKT: This article concerns the problems connected with the perception of a firm on the market. It contains a description of the essence of reputation for an enterprise against the background of its image and identity. It presents also the relations between these concepts, and also identifies the factors and mechanisms shaping them.
Numer wydania: 10
W numerze: