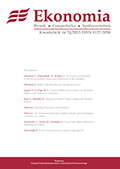 ISSN: 0137-3056
MoSaHE points:
13
Editor in chief:
prof. dr hab. Tomasz Żylicz
tzylicz@wne.uw.edu.pl
Editorial assistant:
Marta Höffner
ekonomia@wne.uw.edu.pl
(48) 22 55 49 184
Publisher: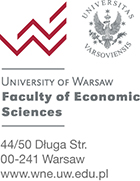 Weryfikacja hipotezy o "środowiskowej krzywej Kuznetsa" na przykładzie emisji dwutlenku węgla w krajach OECD
A. Kukla-Gryz
ABSTRACT: According to the "Environmental Kuznets Curve" (EKC) hypothesis, the level of pollutant emission grows along with the initial stage of economic development and, then, diminishes with further economic development. Usually, the EKC hypothesis is explained by three effects: the scale effect, the structure (or composition) effect and the income effect.

In this paper, a verification of the EKC was undertaken basing on the example of the carbon dioxide emission by the industry in the OECD countries, this time the attention being concentrated on two less popular effects: the .shock. effect and the effect related to the "pollution heaven hypothesis" ("dirty production migration" effect). As an example of shock the petroleum crisis of the seventies was chosen. The verification results showed a substantial impact of the petroleum crisis on the change in carbon dioxide emission by the industry and, at the same time, unimportance of the "pollution heaven" effect.
Issue number: 13
In this issue: