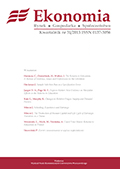 ISSN: 0137-3056
MoSaHE points:
13
Editor in chief:
prof. dr hab. Tomasz Żylicz
tzylicz@wne.uw.edu.pl
Editorial assistant:
Marta Höffner
ekonomia@wne.uw.edu.pl
(48) 22 55 49 184
Publisher: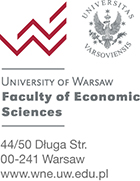 Intersectionality of ethnicity and gender: exploring Romani women's performance in education
E. Cukrowska-Torzewska
ABSTRACT: This paper examines Romani women multiple disadvantage in education. Three main educational outcomes are analyzed: obtaining secondary or higher education, dropping out from the school and having an ability to read and write. The empirical analysis is based on the data coming from two unique datasets on Roma carried out by the UNDP, i.e. 2004 UNDP Regional Roma Survey and 2011 UNDP/ WB/EC regional survey on Roma communities. The results show that variables measuring family background are the key observable factors that explain ethnic gaps in education. On contrary, the gender gaps in education - both among Roma and non-Roma – cannot be explained by the differences in men's and women's characteristics and may be attributed to other unobservable factors such as cultural customs and values. The comparison of the existing gaps over 2004- 2011 reveals that some progress in terms of educational performance of Roma has been achieved. Similar patterns are however found for Romani women and men, leaving Romani women still in a more disadvantaged position.
Issue number: 36
In this issue: