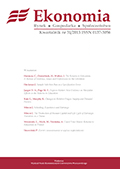 ISSN: 0137-3056
Punkty MNiSW:
13
Redaktor naczelny:
prof. dr hab. Tomasz Żylicz
tzylicz@wne.uw.edu.pl
Sekretarz redakcji:
Marta Höffner
ekonomia@wne.uw.edu.pl
(48) 22 55 49 184
Wydawca: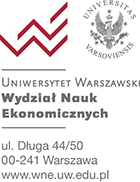 Autoselekcja w internetowym eksperymencie Keynesian p-Beauty Contest
T. Kopczewski
ABSTRAKT: Keynesian p-Beauty Contest (KpBC) is one of the most commonly used laboratory experiments to study the degree of rationality of people and the learning process. It is also applicable in education as a tool to illustrate both the concept of rationality and iterative elimination of dominated strategies. The aim of this paper is to present the results of online teaching experiments in which an auto-selection mechanism has been used based on the existing social stereotypes. The repeatability of the results shows that the experiments are resistant to the distortions arising from the use of the online environment, and that a developed methodology allows to carry out reliable experimental studies.
Numer wydania: 26
W numerze: