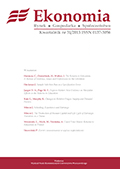 ISSN: 0137-3056
Punkty MNiSW:
13
Redaktor naczelny:
prof. dr hab. Tomasz Żylicz
tzylicz@wne.uw.edu.pl
Sekretarz redakcji:
Marta Höffner
ekonomia@wne.uw.edu.pl
(48) 22 55 49 184
Wydawca: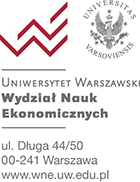 Arabia Saudyjska na drodze przemian. Próba budowy gospodarki otwartej na Świat
A. Łukaszewicz
ABSTRAKT: The paper presents the directions of transformations in the sphere of politics and economy taking place in Saudi Arabia in 1995-2004. The author tries to analyze the effects of the reforms being implemented, the degree to which they are comprehensive, as well as the level of threat to the reforms in the case of possible victory of antireformist forces in the Saudi Kingdom.
Numer wydania: 15
W numerze: