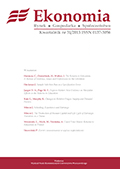 ISSN: 0137-3056
Punkty MNiSW:
13
Redaktor naczelny:
prof. dr hab. Tomasz Żylicz
tzylicz@wne.uw.edu.pl
Sekretarz redakcji:
Marta Höffner
ekonomia@wne.uw.edu.pl
(48) 22 55 49 184
Wydawca: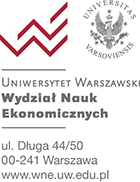 Charakterystyki fluktuacji finansowych
S. Drożdż, P. Oświęcimka, R. Rak
ABSTRAKT: The study will examine the probability distributions of returns for the WIG20 index and the portfolio for the period from 17.11.2000 to 30.06.2005. These are the highest frequency (1 min) and the so-called tick by tick data (quotes at the time of the transaction). Except the data from the Polish stock market, the data from so-called mature markets (such as trading for the 1000 largest companies from the NYSE and NASDAQ index) will be analyzed. The analytical form of distributions (called q-Gaussian) will also be proposed. Nowadays it is one of the best representations describing the actual distributions.
Numer wydania: 25
W numerze: