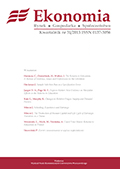 ISSN: 0137-3056
Punkty MNiSW:
13
Redaktor naczelny:
prof. dr hab. Tomasz Żylicz
tzylicz@wne.uw.edu.pl
Sekretarz redakcji:
Marta Höffner
ekonomia@wne.uw.edu.pl
(48) 22 55 49 184
Wydawca: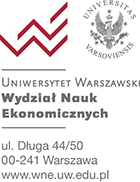 Four Years After Expansion: Are Czech Republic, Hungary and Poland Closer to Core or Periphery of EMU?
M. Łupiński
ABSTRAKT: In this paper we try to check readiness of three Central and Eastern Europe countries, Czech Republic, Hungary and Poland, to introduce European single currency, euro. As a background in the macroeconomic field we use Optimal Currency Area Theory and in the mathematical field three procedures and models: Stock and Watson unobserved component model, spectral and cross-spectral analysis and cluster analysis. Achieved results allow us to state that four years after EU expansion three new countries are rather similar to EMU periphery countries like Italy, Portugal, Spain and Greece than to EMU core economies like Austria, Belgium, Denmark, Germany France and Netherlands.
Numer wydania: 22
W numerze: