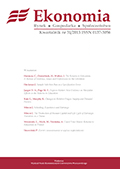 ISSN: 0137-3056
Punkty MNiSW:
13
Redaktor naczelny:
prof. dr hab. Tomasz Żylicz
tzylicz@wne.uw.edu.pl
Sekretarz redakcji:
Marta Höffner
ekonomia@wne.uw.edu.pl
(48) 22 55 49 184
Wydawca: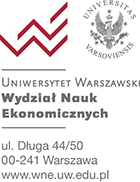 Racjonalność przestrzennej alokacji środków finansowych na ochronę środowiska w Polsce
K. Berbeka
ABSTRAKT: The aim of this article is the analysis of the selected factors influencing the allocation of investment outlays (focusing on environment protection) in Poland. The primary hypothesis assumed that the allocation depends on: expected benefits caused by new investments, duties implicated by EU law, quality of the environment. The review of mentioned factors indicated that the first two related to benefits and duties imposed by EU law were not really important. Also the correlation between quality of environment and amount of investment was relatively strong only for national sources of the capital. There was no correlation at all between the environment quality and preliminary allocation of EU funds.
Numer wydania: 22
W numerze: