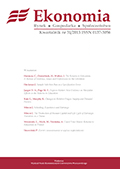 ISSN: 0137-3056
Punkty MNiSW:
13
Redaktor naczelny:
prof. dr hab. Tomasz Żylicz
tzylicz@wne.uw.edu.pl
Sekretarz redakcji:
Marta Höffner
ekonomia@wne.uw.edu.pl
(48) 22 55 49 184
Wydawca: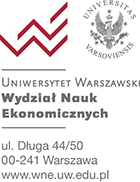 Kapitał społeczny a instytucje - konceptualizacja i relacje
B. Łopaciuk-Gonczaryk
ABSTRAKT: The paper revises the most important definitions, categories and concepts of social capital and tries to achieve their synthesis. It compares the term social capital and the term institution (as understood by new institutional economics) and tries to show possible relations between social capital approach and institutional analysis. The first part discusses if it is proper to use social capital term, it shows critic on social capital approach and the defence, as well as the concept perspectives. The second part focuses on the search for common definition of social capital. It discusses the complexity and internal contradictions of social capital concept, that make the research difficult, and follows with some possible synthesis of the concept, including both social relations and the social norms accompanying them. The third part analyses connections between social capital and institutions. It shows that the terms social capital and informal institutions to some extent cover similar area of research and that there are important relations between social capital and formal institutions which themselves are not part of social capital. This part also shows areas where social capital researchers may benefit from new institutional economics and where social capital approach may help to develop economic theory.
Numer wydania: 21
W numerze: