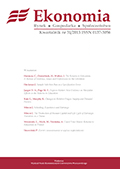 ISSN: 0137-3056
Punkty MNiSW:
13
Redaktor naczelny:
prof. dr hab. Tomasz Żylicz
tzylicz@wne.uw.edu.pl
Sekretarz redakcji:
Marta Höffner
ekonomia@wne.uw.edu.pl
(48) 22 55 49 184
Wydawca: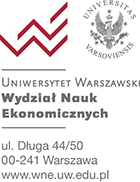 The Role of Exchange Rate and Price Factors in Profitability Improving in Ukraine
A. Goncharuk
ABSTRAKT: The influences of nominal effective exchange rate of hryvnya and wholesale price index changes to value of profitability of the economy is defined by application of correlation-regression analysis. The recommendations about optimization of currency and price policy for improvement of economic efficiency of the economy of Ukraine are framed.
Numer wydania: 19
W numerze: