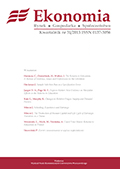 ISSN: 0137-3056
Punkty MNiSW:
13
Redaktor naczelny:
prof. dr hab. Tomasz Żylicz
tzylicz@wne.uw.edu.pl
Sekretarz redakcji:
Marta Höffner
ekonomia@wne.uw.edu.pl
(48) 22 55 49 184
Wydawca: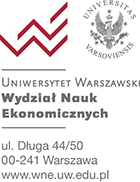 Efekt eksportowy restrykcyjnej polityki pieniężnej
W. Koziński
ABSTRAKT: The paper describes the phenomenon provoked by fast decline in the price rise pace in Poland over the years 2001–2002. A rapid disinflation acts similarly to devaluation of the domestic currency, which means improvement in the export conditions and, as a result, should lead to acceleration of the exports. In fact, as shown by the quoted statistical data, from 2003 the merchandise export markedly accelerated. Thus, on the one hand, the rigid monetary policy of the 1998–2004 period brought a visible decline in the rate of the GDP growth, but on the other hand, under the economic circumstances of that time, created conditions for promotion of exports.
Numer wydania: 19
W numerze: