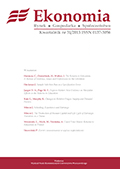 ISSN: 0137-3056
Punkty MNiSW:
13
Redaktor naczelny:
prof. dr hab. Tomasz Żylicz
tzylicz@wne.uw.edu.pl
Sekretarz redakcji:
Marta Höffner
ekonomia@wne.uw.edu.pl
(48) 22 55 49 184
Wydawca: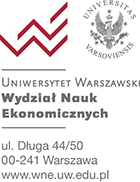 Rozwój standardów kwalifikacyjnych w bankowoœści polskiej
A. Stefański
ABSTRAKT: The choice of a profession should be determined by certain traits of character, cultural habits and predisposition. Qualification standards?a description of requirements to be fulfilled by bankers-define the scope of knowledge, skills and predisposition necessary for the employee;s adequate functioning at a given post. In the system of qualification standards of the Polish banking there are four professional ranks:
independent bank clerk;
qualified bank clerk;
expert in one of the nine areas of specialisation;
bank expert/manager in one of the four integrated areas of specialisation.
Additionally, in 2003, the European Bank Training Network (EBTN) project aimed at preparing and implementing the European qualification standard and the European certificate of banker was worked out. Attaining a professional rank requires: a) passing a relevant theoretical exam; b) acquiring adequate practical skills, approved by the bank, and gaining sufficient work experience. Raising one's professional qualifications and attaining higher professional ranks within qualification standards of the Polish banking is becoming more and more popular. By the end of June 2005 there were altogether 522 examination sessions, and 10,776 candidates successfully completed the certification procedure.
Numer wydania: 16
W numerze: