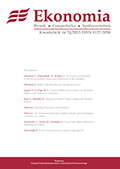 ISSN: 0137-3056
Punkty MNiSW:
13
Redaktor naczelny:
prof. dr hab. Tomasz Żylicz
tzylicz@wne.uw.edu.pl
Sekretarz redakcji:
Marta Höffner
ekonomia@wne.uw.edu.pl
(48) 22 55 49 184
Wydawca: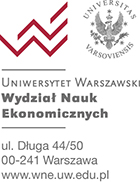 O teorii i numeryce (pomiarze) organicznego składu kapitału
I. Timofiejuk
ABSTRAKT: In the paper, feasibility of a statistical theory, here called numerics (counting), being an expression of the Marxist notion of organic capital composition, was examined. To this end, the Laspeyres-Paasche theory of aggregation and construction of complex indices was presented for: a) two delimited periods (moments) b) a series (sequence) of monobasic, chain and cautionary-link indices. Conclusion was drawn that the definition of organic composition of capital was statistically reflected by the relation between the index of value composition of capital and the technical composition of capital. Finally, the question was put about the intellectual interaction between the Marxist reproduction schemes (and the theory of social capital formation in general) and the Keynes theory.
Numer wydania: 16
W numerze: