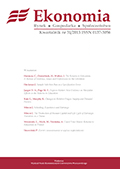 ISSN: 0137-3056
Punkty MNiSW:
13
Redaktor naczelny:
prof. dr hab. Tomasz Żylicz
tzylicz@wne.uw.edu.pl
Sekretarz redakcji:
Marta Höffner
ekonomia@wne.uw.edu.pl
(48) 22 55 49 184
Wydawca: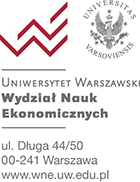 Enforced compatibility and control of switching costs in markets with network externalities: an experiment
T. Kopczewski, M. Krawczyk, P. Kusztelak
ABSTRAKT: We experimentally investigate two competition policy measures relevant for markets with network externalities: mandating technological compatibility and lowering the cost of switching between providers. We do so in a virtual market with the roles of both sellers and buyers being played by student subjects. We find only limited support for usefulness of the analyzed measures: our treatment manipulations have no effect on sellers' pricing strategies. They do, however, reduce individual lock-in, helping the buyers to obtain the currently cheaper variant and thus increase customers' welfare.
Numer wydania: 35
W numerze: