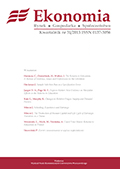 ISSN: 0137-3056
Punkty MNiSW:
13
Redaktor naczelny:
prof. dr hab. Tomasz Żylicz
tzylicz@wne.uw.edu.pl
Sekretarz redakcji:
Marta Höffner
ekonomia@wne.uw.edu.pl
(48) 22 55 49 184
Wydawca: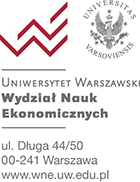 Wpływ wielkości firmy na kształtowanie się procesu decyzyjnego dotyczącego lokalizacji przestrzennej przedsiębiorstwa
T. Kopczewski, P. Kusztelak, M. Pogorzelski
ABSTRAKT: In the models of the horizontal product differentiation it is assumed that all the consumers will decide on purchase of goods, it means that there will be the full market saturation assumption. The authors of the work study the influence of overthrowing this unreal theory on the balances in one and two dimension models of location. In order to verify the balances the experiment has been carried out to study the choices of the participants regarding the location of the company according to the level of the market saturation. The experiment confirmed the influence of the size of the company on its location and demonstrated the occurrence of negative relationship among the size of the companies and the distance between them in the balanced state. The large firms chose the central location, the Principal of Minimum Product Differentiation, when the small enterprises were creating separate monopolistic markets, the Principal of Enough Product Differentiation. Decisions that were made both by large and small enterprises as and small they were correct with the theoretical expectations. Only medium enterprises were located closer to each other than the theory was assumed. The reason of this was a desire to be located in the central point of the market in order to gain the quantity leader's position. It took place by the cost of the lost of parts of profit.
Numer wydania: 23
W numerze: