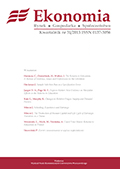 ISSN: 0137-3056
Punkty MNiSW:
13
Redaktor naczelny:
prof. dr hab. Tomasz Żylicz
tzylicz@wne.uw.edu.pl
Sekretarz redakcji:
Marta Höffner
ekonomia@wne.uw.edu.pl
(48) 22 55 49 184
Wydawca: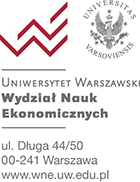 Rankingi konkurencyjności krajów - próba oceny
M. Bloch, T. Gajderowicz, M. Węglińska, M. Wilamowski
ABSTRAKT: The article investigates the research of two most popular rankings of country competitiveness: The Global Competitiveness Report (published by The World Economic Forum) and The World Competitiveness Yearbook (published by The International Institute for Management Development). The difference in constructing the research was shown and the consequences of conclusions. The recommendations were introduced how to interpret rankings objectively.
Numer wydania: 23
W numerze: