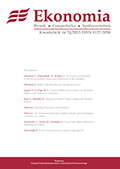 ISSN: 0137-3056
Punkty MNiSW:
13
Redaktor naczelny:
prof. dr hab. Tomasz Żylicz
tzylicz@wne.uw.edu.pl
Sekretarz redakcji:
Marta Höffner
ekonomia@wne.uw.edu.pl
(48) 22 55 49 184
Wydawca: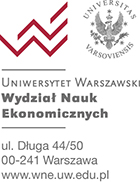 Mocna efektywność informacyjna Giełdy Papierów Wartościowych S.A. w Warszawie - mit a rzeczywistość
T. Potocki, T. Świst
ABSTRAKT: The informative efficiency of the market is the issue verified considering its three different kinds. The tests of the weak form have a reflection in the prices of the shares in their historical value. The majority of the research proves that there is no possibility to achieve abnormal rate of return on the basics of technical analysis. Considering half-strong form, empirical investigation do not give one straight answer, however the majority of results leans towards supporting half-strong form of informative efficiency. Consequently, it is impossible to achieve unusual profits in a longer period of time based on the technical and fundamental analysis. The next means of the efficiency which is hard to be verified is its strong form. With regard for the need to consider this issue in the analysis of the unpublic information, it is the most difficult to examine. The aim of this article is to try to verify a strong form of the informative efficiency on the basics of assumption that recommending individuals have an access to the information which is not available to the wider group of investors. The investigation was carried out on the reports from 52 institutions, which recommendations (1925 events) concern the companies of index WIG 20 between 01.01.2005 and 03.06.2008. In most cases the results of the investigations lead towards the hypothesis that there is a strong informative efficiency in the Stock-Exchange in Warsaw.
Numer wydania: 23
W numerze: