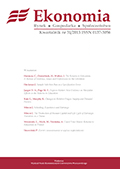 ISSN: 0137-3056
Punkty MNiSW:
13
Redaktor naczelny:
prof. dr hab. Tomasz Żylicz
tzylicz@wne.uw.edu.pl
Sekretarz redakcji:
Marta Höffner
ekonomia@wne.uw.edu.pl
(48) 22 55 49 184
Wydawca: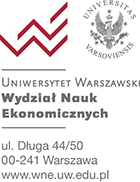 Kluczowe czynniki wzrostu wartości ekonomicznej przedsiębiorstw branży odzieżowej
S. Juszczyk, M. Tymiński
ABSTRAKT: The aim of this paper is to identify the key factors which are affecting the economic value of clothing companies. The study determines the relationship between the applied strategy of financing assets and financial situation of enterprises. Used in the participation rate of net working capital to total assets, also includes ROA, ROE, liquidity and equity multiplier. Assessment was measured using the Value at Risk. In the researched process the following key explanatory variables were selected: sales, expenses, assets, working capital, debt capital, equity, receivables, inventory, productivity. Not all of the explanatory variables occur simultaneously in all the years of study. However, two explanatory variables have been constant, namely: costs and foreign capital.
Numer wydania: 32
W numerze: