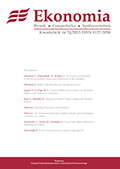 ISSN: 0137-3056
Punkty MNiSW:
13
Redaktor naczelny:
prof. dr hab. Tomasz Żylicz
tzylicz@wne.uw.edu.pl
Sekretarz redakcji:
Marta Höffner
ekonomia@wne.uw.edu.pl
(48) 22 55 49 184
Wydawca: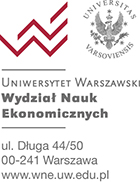 Tendencje na rynku nieruchomości biurowych
B. Śliwiński
ABSTRAKT: The aim of this article is the analysis of the phenomena occurring on the office space market. The space market was indicated as determining the behaviour of developers and the asset market. The analysis of the space market, however, cannot be done without observing the decision conditions of the lessee, such as: the choice of the location, the choice of the class of the office space, changes in the work practices or the correlation between the space taken up by the company and the level of its business activity. Conditions on the space market in the 4Q Dipasquali-Wheaton model gained the importance of a basic factor, defining the height of the rate of capitalization being de facto the rate of the refund of investment in the commercial real estate. In the article the office space market in Warsaw in the years 2000-2004 was analized according to the principles in the model.
Numer wydania: 17
W numerze: