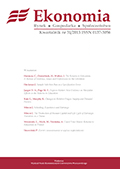 ISSN: 0137-3056
Punkty MNiSW:
13
Redaktor naczelny:
prof. dr hab. Tomasz Żylicz
tzylicz@wne.uw.edu.pl
Sekretarz redakcji:
Marta Höffner
ekonomia@wne.uw.edu.pl
(48) 22 55 49 184
Wydawca: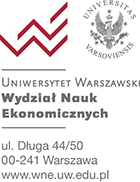 The role of dynamics for trust development. An experimental study
E. Zawojska
ABSTRAKT: We report results from a trust game applied in a dynamic setting, which enhances investment possibilities and offers higher potential payoff from cooperation. The proposed approach better reflects the predicaments people face in concluding informal contracts and enables to investigate dynamics of cooperation relationships between players. Although, transferred shares of the disposable endowment do not differ significantly across the standard and modified games, in the absolute values people send more in the dynamic context. Our results suggest that the dynamic setting of the relationship, which has been often ignored in previous studies, might be an important determinant of trust.
Numer wydania: 38
W numerze: