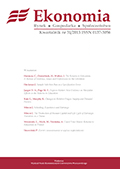 ISSN: 0137-3056
Punkty MNiSW:
13
Redaktor naczelny:
prof. dr hab. Tomasz Żylicz
tzylicz@wne.uw.edu.pl
Sekretarz redakcji:
Marta Höffner
ekonomia@wne.uw.edu.pl
(48) 22 55 49 184
Wydawca: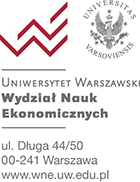 The Effect of Wealth on Consumption Expenditures: Cross Country and Cross Socio-Demographic Group Comparisons
E. Sierminska, Y. Takhtamanova
ABSTRAKT: This study is a contribution to literature on the impact of wealth on consumption (the wealth effect). We assess within- and between-country differences in the housing and financial wealth effect and analyze these differences according to socio-demographic characteristics. Our interest in separating the wealth effect into two is motivated by increases in housing prices in many industrialized countries. The fact that many developed countries are undergoing demographic changes prompted us to consider the relationship between socio-demographic characteristics and wealth effects. Differences are found in the magnitudes of financial and housing wealth effects by age, gender, as well as family composition of the households in all three countries. This paper reports some of the first findings based on data from a new source, the Luxembourg Wealth Study (LWS), built within the larger Luxembourg Income Study (LIS). LWS is a database containing harmonized wealth micro-datasets from a number of industrialized countries. In our analysis we use data from three countries: Canada, Finland and Italy.
Numer wydania: 20
W numerze: