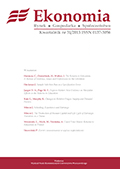 ISSN: 0137-3056
Punkty MNiSW:
13
Redaktor naczelny:
prof. dr hab. Tomasz Żylicz
tzylicz@wne.uw.edu.pl
Sekretarz redakcji:
Marta Höffner
ekonomia@wne.uw.edu.pl
(48) 22 55 49 184
Wydawca: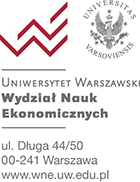 Stylized Facts of Macroeconomics: the Polish Experience
K. Rosiak-Lada
ABSTRAKT: The aim of this paper is to provide detailed analysis of quarterly frequency dynamics in macroeconomic aggregates in Poland. The following areas of concern have been included: the balanced growth theory, the comparison of empirical performance of the New Classical, New Keynesian and Hybrid Philips curve specifications and the changes of macroeconomic stylized facts across the monetary regimes. Thorough analysis of those, as well as other facts, may contribute significantly to the development of macromodelling of Poland. Analysis of other facts has also been conducted, however due to limited space is not provided. The main result of the presented analysis is to give overwhelming evidence that the standard textbook stylized facts of macroeconomics present a reasonably good approximation to the behaviour of Polish economy, providing that this analysis takes into account that the Polish time series are contaminated with outliers.
Numer wydania: 20
W numerze: