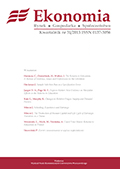 ISSN: 0137-3056
Punkty MNiSW:
13
Redaktor naczelny:
prof. dr hab. Tomasz Żylicz
tzylicz@wne.uw.edu.pl
Sekretarz redakcji:
Marta Höffner
ekonomia@wne.uw.edu.pl
(48) 22 55 49 184
Wydawca: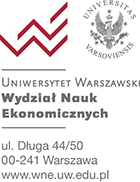 The Impact of Monetary Policy and Agent Heterogeneity on Firm Financing Structure: Evidence from the USA
A. Malinowska
ABSTRAKT: Using panel modelling and firm-level data for 222 US listed companies I investigate how changes in monetary policy approximated by the three-month US LIBOR interest rate and its combined effect with firm-specific characteristics influenced firms' financing decisions and their liability structure during the period 2005−2014. Reported findings suggest that despite the Zero Lower Bound on the Federal Funds Rate, the three-month US LIBOR has retained its impact on firm total debt, long-term bank debt and short-term trade credit. Monetary policy changes were found to have affected firm's liability structure, especially through parameters such as size, collateral and profitability.
Numer wydania: 46
W numerze: