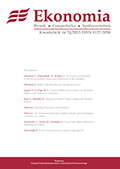 ISSN: 0137-3056
Punkty MNiSW:
13
Redaktor naczelny:
prof. dr hab. Tomasz Żylicz
tzylicz@wne.uw.edu.pl
Sekretarz redakcji:
Marta Höffner
ekonomia@wne.uw.edu.pl
(48) 22 55 49 184
Wydawca: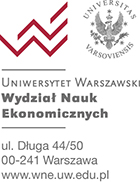 Dlaczego nie może być kapitalizmu bez bezrobocia
I. Timofiejuk
ABSTRAKT: This article deals with the question: can there be a capitalist economy without unemployment? The authors answer is: the rate of unemployment can be higher or lower, but there is no capitalist way of management without the existence of unemployment. This is an immanent law of capitalism. It is proven from a historical point of view: worlds economic history did not note a country or period that would not have unemployment. But it is also proven on a theoretical ground making use of statements by C. Marx from the first volume of Capital and stating a thesis that the process of capitalistic utilization of accumulation and transforming it into a growth of productive system resembles a permanent process of forging a movable fixed capital into a higher absorption of capital.
Numer wydania: 18
W numerze: