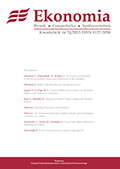 ISSN: 0137-3056
Punkty MNiSW:
13
Redaktor naczelny:
prof. dr hab. Tomasz Żylicz
tzylicz@wne.uw.edu.pl
Sekretarz redakcji:
Marta Höffner
ekonomia@wne.uw.edu.pl
(48) 22 55 49 184
Wydawca: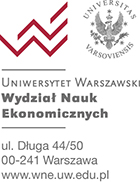 Regional Variation in the Public Sector Wage Premium in Poland
G. Grotkowska
ABSTRAKT: There are a number of reasons, related to both the supply and demand side of the labour market, for which the public sector employment wage premium may vary spatially. This variation may affect the efficiency of public services provision, private investment and the equilibrium of regional labour markets. The aim of this study is to assess the scale of regional variation in Polish public-private wage differentials. In this paper, we use the individual dataset from the 2012 Structure of Earnings by Occupation (SEO) survey carried out by the CSO and the propensity score matching method, supplemented by quintile regression, to analyse regional differences in public- private wage differentials. The results reveal that in Poland, the public sector premium is highest in the least economically developed regions. Moreover, it significantly varies between regions across the wage distribution. The volatility of the premium may be to some extent explained by the structure of regional economies and by the development of the private sector in particular.
Numer wydania: 46
W numerze: