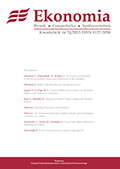 ISSN: 0137-3056
Punkty MNiSW:
13
Redaktor naczelny:
prof. dr hab. Tomasz Żylicz
tzylicz@wne.uw.edu.pl
Sekretarz redakcji:
Marta Höffner
ekonomia@wne.uw.edu.pl
(48) 22 55 49 184
Wydawca: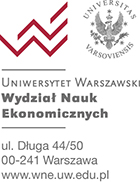 Kwestia definicji dóbr publicznych
E. Rutkowska
ABSTRAKT: "The theory of economy deals mainly with private goods […] Nevertheless, there are many goods which do not fall into this category" (Wilkin, 2005, p. 159). This is the reason that makes a few Polish authors interest in the theory of public goods; but, before being able to enlighten the theory, one should begin with a strong basis which is the definition; hence the idea of the article. Threemain parts are shown here, starting from Paul A. Samuelson and his pure public good understanding followed with a word of its critics. As one of counterarguments to Samuelson's definition, Richard A. Musgrave's public good impurity examples are recalled. Then we continue with an abstract understanding of public good by James M. Buchanan. His idea is to call every item of public good, my public good. Hence if two people stand under the same street lamp at the same time, each of them consumes different unit of public good. Even if the way of thinking may seem to be odd, it eliminates a few significant obstacles with which Samuelson's theory could not manage. What is more, it enables its author to create the whole system of public goods' distribution, but it is a subject for another article.
Numer wydania: 26
W numerze: