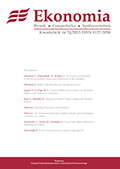 ISSN: 0137-3056
Punkty MNiSW:
13
Redaktor naczelny:
prof. dr hab. Tomasz Żylicz
tzylicz@wne.uw.edu.pl
Sekretarz redakcji:
Marta Höffner
ekonomia@wne.uw.edu.pl
(48) 22 55 49 184
Wydawca: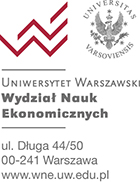 The Misalignment of the Real Exchange Rate with the Fundamentals: Evidence from the Czech Republic, Hungary and Poland
V. Posta
ABSTRAKT: The paper examines the behavior of the real exchange rates in the Czech Republic, Hungary and Poland, analyzing its driving forces with the emphasis on the turbulences which have been lately seen in the economies. Real equilibrium exchange rates are estimated using the BEER methodology to serve as a benchmark to which the real exchange rates are compared. The gap between the estimated real equilibrium exchange rates and real exchange rates as well as the key determinants of the real equilibrium exchange rates are analyzed and compared in the three cases. While the Czech Republic and Poland have been relatively mildly hit by the current crisis which has been accompanied by a relatively acceptable misalignment of the real exchange rate with the fundamentals, clear long-run divergence of Hungarian real exchange rate from the market fundamentals has been detected in the analysis.
Numer wydania: 26
W numerze: