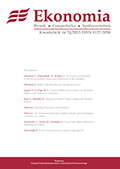 ISSN: 0137-3056
Punkty MNiSW:
13
Redaktor naczelny:
prof. dr hab. Tomasz Żylicz
tzylicz@wne.uw.edu.pl
Sekretarz redakcji:
Marta Höffner
ekonomia@wne.uw.edu.pl
(48) 22 55 49 184
Wydawca: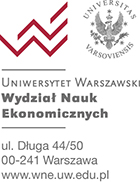 Wycena czasu wolnego – podejście eksperymentalne
T. Gajderowicz
ABSTRAKT: The paper takes the problem of difficulties in the valuation of leisure time within the context of methods used to estimate the value of non-market goods. The traditional methods were compared to the innovative approach of experimental economics. Two laboratory experiments were planned and carried out, and henceforth analyzed and critiqued. The influence of the size of the company on formation of the decision which location to choose.
Numer wydania: 22
W numerze: