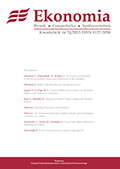 ISSN: 0137-3056
Punkty MNiSW:
13
Redaktor naczelny:
prof. dr hab. Tomasz Żylicz
tzylicz@wne.uw.edu.pl
Sekretarz redakcji:
Marta Höffner
ekonomia@wne.uw.edu.pl
(48) 22 55 49 184
Wydawca: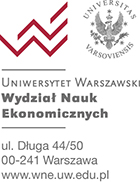 Badanie wpływu filantropii na wizerunek przedsiębiorstwa
M. Majchrzak
ABSTRAKT: Consumers behaviour research is essential for both: the economist and the customer, who can often understand his own choices. The customer is mainly concentrated on the empirical investigation, physical features of the product and the knowledge about the product. However the economist's approach is the analysis on the higher level of factors, which indirectly and at the same time strongly influence customers' decisions. Considering this facts, it is going to be checked if, in the way to become the leader, joining the economic activities with the public work is respected by receivers of this philanthropy. Moreover the work will contain the answer to the question if the public work and pro-ecological actions make the company reliable and if it has an influence on the customer's opinion about the company and its products.
Numer wydania: 22
W numerze: