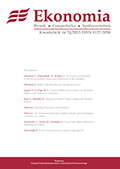 ISSN: 0137-3056
Punkty MNiSW:
13
Redaktor naczelny:
prof. dr hab. Tomasz Żylicz
tzylicz@wne.uw.edu.pl
Sekretarz redakcji:
Marta Höffner
ekonomia@wne.uw.edu.pl
(48) 22 55 49 184
Wydawca: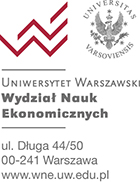 Jakość oferty polskich ośrodków narciarskich
D. Chudy-Hyski, K. Cieślikowski, M. Żemła
ABSTRAKT: Big popularity of skiing among citizens of lowland country such as Poland causes the surplus of the demand over the supply of skiing services, which is naturally fulfilled abroad. However, low product quality can also be responsible for growing number of Polish skiers choosing foreign slopes. If a ski resort is treated as a tourist destination of a special kind, its product quality has to be understood as both services quality and environment quality. The Kano method and the importance-performance scale were used to detect Silesian skiers' requirements and their perception of the product quality of Polish ski resorts. On the base of the conducted research it's possible to state that Silesian skiers prefer one day ski trips and are not interested in any additional services at destination including aprcs-ski offer, gastronomy and accommodation. Instead they expect high standard of lifts and slopes, low prices, easy access and low level of congestion. Especially the last feature is pointed as the major weakness of all Polish ski areas. Skiers also often complain about poor quality of ski lifts and too high prices. Good access seems to be the main strength of Polish resorts as well as their scenic beauty, but the second requirement is not among the most important. The observed gap between the skiers' requirements and the resorts' offers suggest necessity of some actions improving the quality of Polish ski resorts. Investments increasing capacity of ski areas seems to be unavoidable too. On the other hand described preferences make the Silesian market not profitable for local economies and marketing actions on remote markets generating longer stays should be taken by responsible entities. It's also reasonable to try to influence Silesian market to create new market behaviour.
Numer wydania: 21
W numerze: