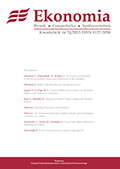 ISSN: 0137-3056
Punkty MNiSW:
13
Redaktor naczelny:
prof. dr hab. Tomasz Żylicz
tzylicz@wne.uw.edu.pl
Sekretarz redakcji:
Marta Höffner
ekonomia@wne.uw.edu.pl
(48) 22 55 49 184
Wydawca: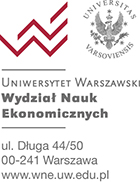 Strategia personalna organizacji a jej postrzeganie i reakcja na nią pracowników
G. Bartkowiak
ABSTRAKT: The subject of this paper is the personnel strategy and its perceptions by managers and other workers. The basic problem of this paper could be put into questions: how is the personnel strategy (and their different types) perceived by managers and other workers in a crisis situation and is there direct dependence between the perceived strategies and the managers and workers' behavior? In order to find answer to the questions th efollowing research was planned. In the first stage there were 63 managers trying to describe the types of strategies. In the second stage 123 workers and 32 managers took part in the research. The complete data proved that the realized strategies were perceived independently of the extent of effort taking part in their introduction and the workers didn't like to share their knowledge. The other results achieved in the research indicated that personnel strategies utilizing restrictions and mental pressing were evaluated positively (by some workers) and negatively by others.
Numer wydania: 19
W numerze: