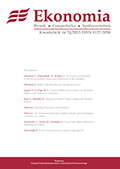 ISSN: 0137-3056
Punkty MNiSW:
13
Redaktor naczelny:
prof. dr hab. Tomasz Żylicz
tzylicz@wne.uw.edu.pl
Sekretarz redakcji:
Marta Höffner
ekonomia@wne.uw.edu.pl
(48) 22 55 49 184
Wydawca: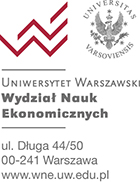 Dobra publiczne w usługach finansowych
J. Solarz
ABSTRAKT: Gap between governmental spending and governmental ownership in financial sector is one of the main barriers in progress of public finance reforms in Poland. Only clear dividing of financial services on public and private goods and same fuzzy semi-public goods can define scope of governmental presence in our financial service.
Numer wydania: 13
W numerze: