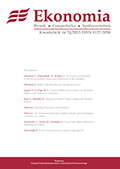 ISSN: 0137-3056
Punkty MNiSW:
13
Redaktor naczelny:
prof. dr hab. Tomasz Żylicz
tzylicz@wne.uw.edu.pl
Sekretarz redakcji:
Marta Höffner
ekonomia@wne.uw.edu.pl
(48) 22 55 49 184
Wydawca: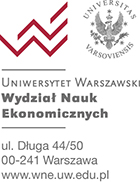 Próba określenia zmian w uwarunkowaniach zewnętrznych polskiej polityki gospodarczej u progu XXI wieku
G. Gałek
ABSTRAKT: Economic policy traditionally defined as the conscious interaction of the state upon the economy, its structure and the processes occurring in it is subjected contemporarily to various limitations both internal and external. The end of the XX century and the first years of the XXI century were abundant in events which changed the outlook of the world and very strongly affected the shape of international political and economic relations. The development of mass transport, new technologies of information transfer, the transformation processes in the former socialist countries are only some of the factors influencing the shape of the world at the threshold of the third millennium. The growing network of ties between states, economies and regions causes that it is increasingly more difficult for sovereign states to conduct an independent economic policy. The conscious making of strategic decisions, especially in the case of countries such as Poland, must be preceded not only by analysis of effects but also by reflection on the conditions and limitations resulting from functioning in an increasingly more complex world.
Numer wydania: 10
W numerze: